'HELPING HANDS'
SOCIAL PROJECTS!

SOCIAL ACTION
The North of Thailand is where our 'Helping Hands' projects are located. Thai people, Hilltribe people, refugees and other minorities have been very badly hit with the recent downturn in the economy. In the cold season (when it can drop to one degree celcius in the mountains) many die of hypothermia because they only have one thin cotton shirt to wear, for example. Though Thailand has a 95% basic literacy rate, most children only actually complete four years of schooling. The reason is usually financial - there is no money for school books, uniforms, shoes or lunches. Some children only have a bag of rice and a few chillies for lunch. Pon and Annette have put a lot of personal money and energies into different projects, including water supply systems for Hilltribe villages and schools, building village schools, providing school books, school lunches, stationery and general educational supplies. Sponsoring children whose parents have died of AIDS or who have financial problems.
We are both passionate about promoting human rights and well-being in the North of Thailand. Pon has been involved as a representative for the North of Thailand in implementing the new more egalitarian constitution (1997). At present he is organising the 'anti-corruption in Thailand' movement in the North. Annette is a founding and active member of the Women for Tomorrow's Politics, which aims to encourage Thai women to become aware of and exercise their consitutional and political rights. Annette also enjoys talking with Eagle House visitors about the concerns of local communities. It is important to us that visitors to Thailand leave the country not only with impressions of beautiful temples, stunning waterfalls, spectacular jungles but also with an understanding of the daily lives of the Thai people, their ancient culture and their many achievements but also the hardships that some face daily.
DONATION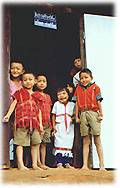 We distribute charitable donations throughout Northern Thailand. We welcome aid from any individual, organisation or company from abroad or in Thailand. Every small bit helps, even if it is one pair of socks, one pen, or a sleeping bag or a financial contribution of B10 the equivalent of US$0.36.
If there is a particular cause that you would like your donations to go to or to support, please let us know. A record is kept of all donations and where they have been sent to. It is very important to us that every donation is acknowledged and is received by the individual or group it was meant for.
DONATION NEEDED
(All should be clean and in good condition): Clothing - newborn, children, adult, male and female. Cloth nappies / diapers. Blankets. Sleeping bags. Sheets. Warm winter jackets. Socks. Shoes. Hats. Gloves. Towels.
Games equipment. Board games. Educational toys. Toys that make noises. Schoolbooks. English books. English dictionaries. Teaching books and aids. English typewriters. Braille typewriters. Stationery and schools supplies. Wheelchairs. Crutches. Glasses. Hearing aids. Office equipment. Musical instruments. Percussion instruments. Blank cassette tapes. Talking books. Song books. Bicycles. Cooking utensils and equipment. Cutlery. Crockery. Buckets. Washing bowls. Toiletries. Washing powder. House paint.
If you have donations you would like to send and will not be coming to Chiang Mai then you can send them from any destination in Thailand. Postage within Thailand is very cheap. (For example, 10 kg costs just B105 or US$3 to send or 20 kg costs B205 or US$5.6 to send.) There is also a 24 hour post office in the transit lounge in the International Airport in Bangkok.
If you will not be visiting Thailand but would like to send donations then you could either give them to a friend to bring along or post them seamail, this takes about three months.
Occasionally we encounter problems with customs in that when larger items are shipped from abroad that the customs official wants us to pay a customs fee. This is not possible for us as we do not have adequate finances. A suggestion is that if you have something you would like to sponsor for example a wheelchair, then we can buy it here, or perhaps even two because the money for postage has been saved.
VOLUNTEER WORK IN CHIANG MAI
Many N.G.O.'s (Non-government organisations) and government organisations require volunteers to work with them. This can be for a period of a couple of hours, one day, a few months or a few years. If you have the skills, time and generosity, why not help some who are less fortunate than you and also gain the experience of another culture and living in another country.
ORGANISATIONS: childrens homes, schools and homes for the blind, deaf and/or other physical handicaps, schools in refugee camps, medical clinics, women's rights and health awareness groups, AIDS projects, handicraft projects and agricultural projects, especially in relation to organic farming.
Professional SKILLS required: school teachers, English (ESL) teachers, French teachers, nurses, administrators, writers, midwives, community health workers etc.
Non-professional SKILLS & PERSONAL QUALITIES required: understanding, love, kindness, compassion, communication, English teaching, French teaching, painting, gardening, willingness to learn, openess to new ideas.
Most volunteer jobs are as described, 'voluntary', in other words there is no renumeration. Usually you have to pay your own food and accommodation though in some cases this is provided. If you want to live simply in Chiang Mai you pay about from B2500+ per month for a fan room with bathroom, airconditioned rooms are also available or you can even rent a house. Food is cheap and you can eat out at restaurants or buy it in the market. Laundry is also cheap to have done for you.

Top of Page
---
Eagle House: www.eaglehouse.com
E-mail:

[email protected]